FilmSim at Battle Lakes Sun 4th September 2022
Sun, 4th September
£15.00 – £50.00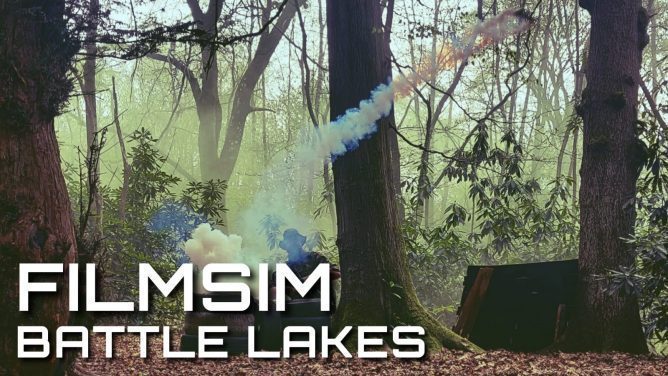 Gates open at 0800 - please arrive before 0900.
Please allow enough time to book in, get set up and chrono guns
BEFORE
0930.
We
START
at 0930 and finish around 1500 with a break for lunch in the middle.
ALL players MUST now bring a completed
consent form
with them to ALL games. This will replace then sign in sheet and is intended to speed up the arrival process as well as reduce contact. Under 18s need to use the new form now.
Special offer! Play Saturday and Sunday for only £40.
FilmSim is back!!!
We've made several changes to things like the bandaging mechanic to ensure compliance with COVID-19 and the safety of our customers. Updated rules can be found
here
.
FilmSim is an experience like no other! Designed to make you feel like you are playing a key role in a film or computer game, the FilmSim experience is more involved than a skirmish game, but not as complex as a MilSim event.
FilmSim open days are suitable for everyone, from the absolute beginner to the seasoned veteran airsofter and rental equipment is available. Our friendly team and regular players will make sure you have a great day.
The rules are slightly more involved than on a skirmish event to encourage more immersion in the scenario, and role-playing is highly encouraged. Each game has a theme which will usually be posted on the Facebook event page a couple of weeks prior. Participation in the theme is optional, but you'll have way more fun if you dress the part and put on a daft accent!
The gameplay usually lasts for around two hours at a time morning and afternoon. This makes for a more relaxed rate of play as well as the opportunity to plan and execute flanking manouvers, pincer attacks or distractions etc. There are usual several objectives to complete, sometimes requiring one to be completed before another can be tackled. Where possible, players are given the freedom to approach the objectives in whatever manner they think will work best, but most will usually require a more tactical approach than the usual "rush it" skirmish method. If you can't seem to get near an objective, fall back, regroup with other team members and figure out another approach.
Teamwork is a vital part of FilmSim - some objectives can be tackled solo, but most will be much easier when planned with team-mates.
Two-way radios are extrememly useful and each team will be assigned a frequency in the UHF band from our licence for team chat. You are welcome to use your own radios for this as long as they are set up correctly and you are operating on your assigned channel. Please check well before the start of the game as we always need to have a channel reserved for marshal safety comms. For communication within individual fireteams we recommend PMR446 radios. They are cheap, easy to use and do not require a license. They also do a great job of simulating the range and application of military PRR sets. You are welcome to use these on any of our sites without asking.
We prefer to use camouflage to identify teams where possible so it's always helpful if players can bring more than one set of kit with them and be prepared to change, however if this is not practical we will use team armbands. It's not too important what you wear, but try and dress in a similar manner to anyone you want to play with.
Walk on tickets are £25 with £15 being paid when you book online and the remaining balance (£10) to be paid on the day. Our rental packages are available at £50 and are paid in full when you book online. If you have any questions please do not hesitate to get in touch.
Related Events