Gunman Airsoft's Birthday Celebration Weekend 22nd-24th July
Fri, 22nd July

-

Sun, 24th July

£5.00 – £45.00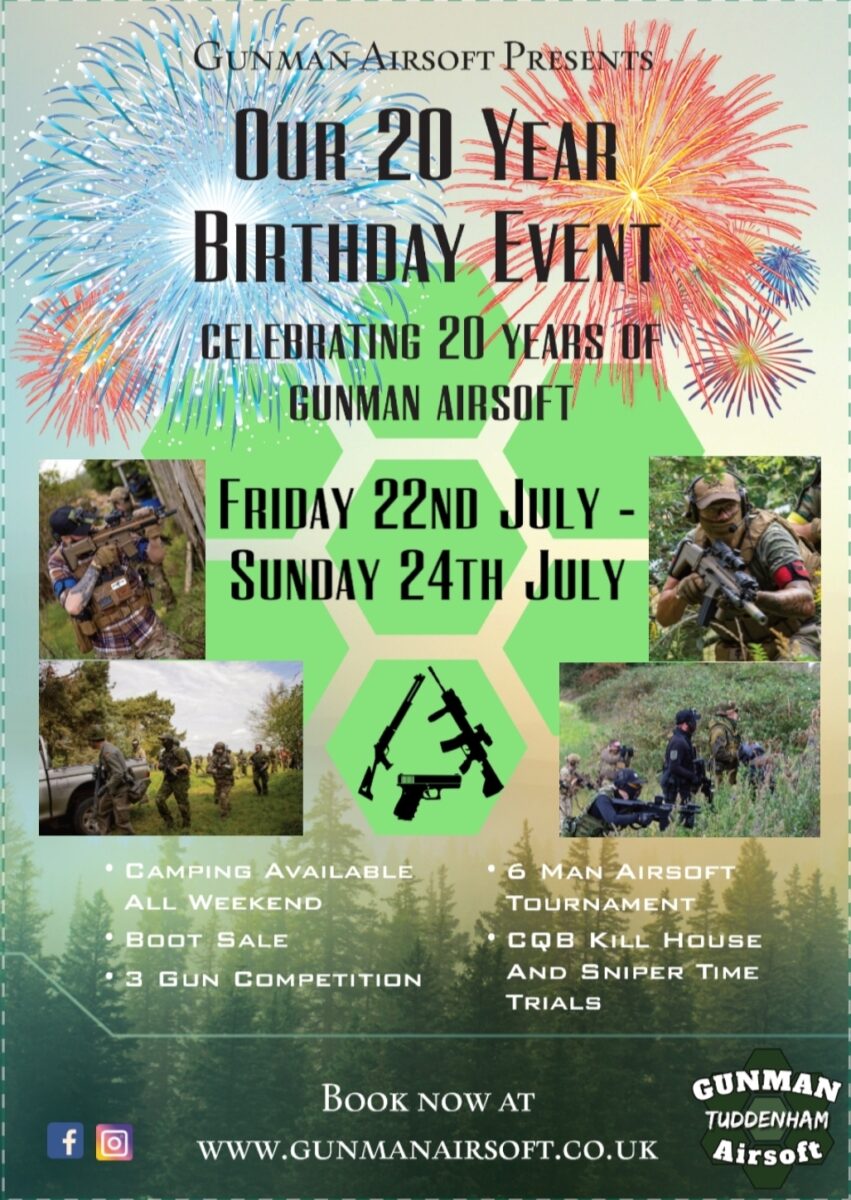 Celebrating 20 years of pew pew at Gunman Airsoft.
Join us over the weekend and take part in a number of different airsoft themed events celebrating many different aspects of the hobby we all love.
Full weekend tickets include the following –
Full camping all weekend
Entry into the 6 man tournament
Entry for drop in/drop out skirmish
Entry for Saturday night game
Pitch for boot sale
1 free entry to either the 3 gun competition or kill house time trial.
Arrive from 5pm on Friday 22nd and leave after game over on Sunday evening.
We will have a jam packed airsoft shop onsite all weekend, Snacks and drinks will also be available all day.
We are also looking into a BBQ dinner on the Saturday evening, the menu and prices will be posted closer to the date however vegan and vegetarian options will be available.
MAIN ACTIVITIES
We will running the the following events throughout the weekend with prizes for 1st, 2nd & 3rd place.
6 Man Tournament (entry included with your ticket) – Think you have what it takes to go up against Team Myrmidon and complete a range of objectives while battling against an experienced team of airsofter's then this is for you.  Bring your squad (up to 8 players with 6 playing at any one time). If you are a smaller team don't worry we can pair you up with another smaller team and you can work together to complete the mission.
Prizes (per team) – 1st place – £100 voucher, 2nd place £50 voucher , 3rd place £25 voucher. 
3 Gun Competition Course With Attack Sense Targets (£2.50 per run)– Complete a time trial run through our trench system engaging a variety of attack sense targets using a rifle, shotgun and pistol. Will you be the fastest?
Prizes – 1st place – £50 voucher, 2nd place – £25 voucher, 3rd place £15 voucher.  
CQB Kill House (£2.50 per run)- Complete a time trial course through our kill house area.
Prizes – 1st place – £50 voucher, 2nd place – £25 voucher, 3rd place £15 voucher.
Sniper Time Trials (£5 per entry)- Test your sniper skills through completing a number of sniper based objectives including concealment, target identification and taking the shot to complete your mission.
Prizes – 1st place – £50 voucher, 2nd place – £25 voucher, 3rd place £15 voucher. 
All prize vouchers can be redeemed at any of our sites and can be used for either payment for game days or as credit in our site shops.
Winners will be announced on Sunday afternoon.
OTHER ACTIVITIES
Saturday Night Game (free entry)- This is just for a bit of fun and entry is free with your ticket price and completely optional.
Drop in, Drop out skirmish (free entry)- waiting for your turn in another activity but got some time to kill? Then head over to our woodland area and kill some time in our skirmish area.
Boot Sale – This will be running on Saturday from 10am – 4pm in a dedicated area in our safe zone. This is included in the price of your weekend ticket however if you would just like to come along to sell some kit we are offering a pitch for £5, just book your spot using the separate option below.
More information will be posted soon but if you have any questions in the meantime please get in contact.
Related Events