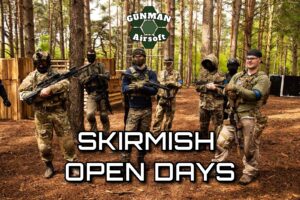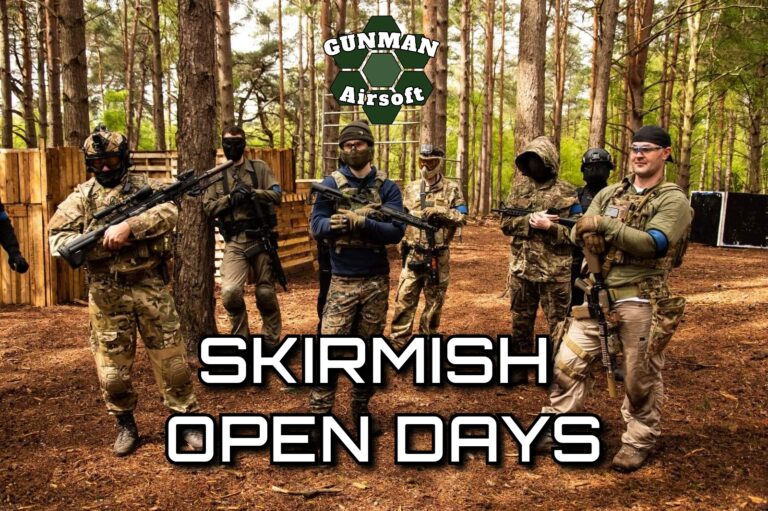 Gunman Airsoft runs open day airsoft experiences almost every weekend at several sites across the country. These casual events are suitable for absolute beginners and experienced players alike. 
Our open days are designed to be just as much fun if you've come by yourself or with a group of friends. Our staff, marshals and regular players will ensure that you're given the best airsoft experience from the moment you turn up.
The minimum player age is 12, there is no maximum! All participants must now bring a completed consent form with them on each visit. 12 & 13 year olds MUST have a responsible adult named on their consent form who will remain on site all day to take responsibility for their safety and well-being. The adult does not have to play and may remain in the safe-zone without any extra cost, the adult may be responsible for more than one young player.
Games usually include a range of custom designed as well as ex-military props to make your experience more realistic and engaging than just "capture the flag" or "king of the hill" style play. We design all our game scenarios with the view that you are here to play the game, not watch others play, therefore we ensure that there is always a method to get back into the game reasonably quickly after being shot.
Walk-on players with their own equipment are always welcome at our open days, although we recommend that you book in advance in order to help us plan game scenarios more effectively. If a game is oversubscribed, non-booked players may be turned away on the day if game quality would be negatively affected by the numbers.
All of our open days have rental equipment available, but quantities are limited so we recommend you book as soon as possible to secure your spot.  After this time, we will try our best to accommodate you (please call us) but any extra rental sets available on the day will be issued on a first-come-first-served basis, and we do not have an unlimited supply! Please pre-book to avoid disappointment.
Pricing
The price of our open days depends on whether you have your own equipment or need to rent from us.
Occasionally we run night games – these are separate events and are NOT included in the price of a day or weekend ticket.
Walk-on pricing
All customers must book and pay for their space on our website.
Single day = £25
Rental packages
The rental package includes the walk-on fee, a rental rifle with battery and magazines, full face protection and a tactical load carrying vest. Booking is mandatory to ensure equipment availability.
Single day = £50
Rental packages pre-paid on our website include a free bag of ammo (1000 rounds of 0.2g).
Group Pricing
We can offer discounts for groups larger than 10 people – please contact us for details.
FPS Limits
Our limits are based on the energy at the muzzle of the weapon. On site, we use high precision radar chronographs to measure your muzzle velocity using whatever weight BBs you will be using in the field, comparing the results to our conversion chart. This gives the best measure of how your gun will perform in the field as the energy levels at the muzzle can vary greatly with differing weights of BB.
Please note, these are upper limits that are not to be exceeded, we recommend that when setting up your weapon you aim for 10-20fps lower to avoid any problems.
1.13J (350fps with a 0.2g BB) – The majority of weapons
1.48J (400fps with a 0.2g BB) – DMR
2.31J (500fps with a 0.2g BB) – Sniper
Weapon class restrictions
DMR – Must be incapable of selecting burst or full-auto. Should be a longer barreled heavier weapon with a magnified optic fitted. Cannot be used against targets closer than 30m – a sidearm MUST be carried. Single placed shots to be taken, shots should be allowed to impact before a follow up shot is made (no trigger spamming)
Sniper – Must be either bolt-action or semi-auto with a MOSFET 2 second delay between trigger pulls. Should be a long barreled weapon with a magnified optic fitted. Cannot be used against targets closer than 30m – a sidearm MUST be carried. Headshots are to be avoided wherever possible.
Conversion chart
Please note, all DMR weapons now have a minimum 30M engagement distance enforced.