---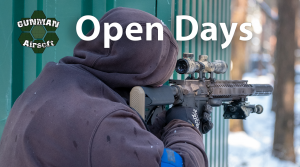 Gunman Airsoft runs open day airsoft experiences almost every weekend at several sites across the country. These casual events are suitable for absolute beginners and seasoned veterans alike.
Our open days are designed to be just as much fun if you've come by yourself or with a group of friends. Our staff, marshals and regular players will ensure that you're given the best airsoft experience from the moment you turn up.
The minimum player age is 12, there is no maximum! All participants MUST now bring a completed consent form with them on each visit. 12 & 13 year olds MUST have a responsible adult named on their consent form who will remain on site all day to take responsibility for their safety and well-being. The adult does not have to play and may remain in the safe-zone without any extra cost, the adult may be responsible for more than one young player.
We use a variety of game scenarios and missions from simple item collection to more complicated multistage missions with changing objectives and interactive props.
We design all our game scenarios with the view that you are here to play the game, not watch others play, therefore we ensure that there is always a method to get back into the game reasonably quickly after being shot.
Pricing
The price of our open days depends on whether you have your own equipment or need to rent from us.
Single day with own equipment = £25
Single day including rental equipment = £50
Rental packages
The rental package includes the basic ticket price, a rental rifle with two magazines (holds 300 rounds) and full eye/face protection as required.
We will also included tactical vests or chest rigs were available.
Good footwear is recommended as well as clothes that you do not mind getting muddy.
We include a free bag of 1000 rounds of ammo with your rental equipment. It's hard for us to tell you if it will last you all day because it really depends on how trigger happy you get! We sell extra bags of ammo on site at £10 for 3000 rounds, or you can choose to upgrade to the bigger bag before you start for just £5.
If you are bringing your own ammo with you but using a rental gun please let a marshal check them over to make sure they are suitable before using them.
Also if you intend to use your own eye protection and not ones that are provided in your package please let a marshal check these so we know that they are safety rated. You only get one pair of eyes and really isn't worth the risk of using inferior eye protection.
FPS Limits (Energy Limits)
Our limits are based on the energy at the muzzle of the weapon. On site, we use high precision radar chronographs to measure your muzzle velocity using whatever weight BBs you will be using in the field, comparing the results to our conversion chart. This gives the best measure of how your gun will perform in the field as the energy levels at the muzzle can vary greatly with differing weights of BB.
Please note, these are upper limits that are not to be exceeded, we recommend that when setting up your weapon you aim for 10-20fps lower to avoid any problems.
If you have tested your gun on your own chrono please bear in mind that it may give you a different reading to ours (especially if it's an optical type or a cheap one) – the site chrono is the one we use to ensure fairness, safety, compliance with the law and insurance validity. No arguing, no complaining – we regularly compare all of our units and investigate if one is obviously reading different to the others. No refunds will be offered to players with hot guns.
1.13J (350fps with a 0.2g BB) – The majority of weapons
1.48J (400fps with a 0.2g BB) – DMR
2.31J (500fps with a 0.2g BB) – Sniper
Weapon class restrictions
Our Eversley sites are subject to a sniper/DMR ban during the summer months because the undergrowth creates safety issues when higher powered weapons are in use. Please check with us if you are unsure.
DMR – Must be incapable of selecting burst or full-auto. Should be a longer barreled, heavier weapon with a magnified optic fitted. Cannot be used against targets closer than 30m – a sidearm MUST be carried. Single placed shots to be taken, shots should be allowed to impact before a follow up shot is made (no trigger spamming). Low-cap magazines are preferred and may be required for some events.
Sniper – Must be either bolt-action or semi-auto with a MOSFET 2 second delay between trigger pulls. Should be a long barreled weapon with a magnified optic fitted. Cannot be used against targets closer than 30m – a sidearm MUST be carried. Headshots are to be avoided wherever possible. Low-cap magazines are preferred and may be required for some events.
Conversion chart
Please note, all DMR weapons now have a minimum 30M engagement distance enforced.